Each book, each work has a different look, a different soul; but in School or school of life, here are 4 highlights that make up a work that I am extremely interested in and I am also ready to wholeheartedly review for you readers. First of all, sincerity – that's what attracts me the most and also what makes me admire and love the most about the book, about the author and about Dr. Le Tham Duong.
Miracle Morning For Students: Turning College Into A Bright Year of Youth
Review of the book "Japanese Minimalist Lifestyle": What's Neat?
The Philosopher's Shop – Visit the stalls of thought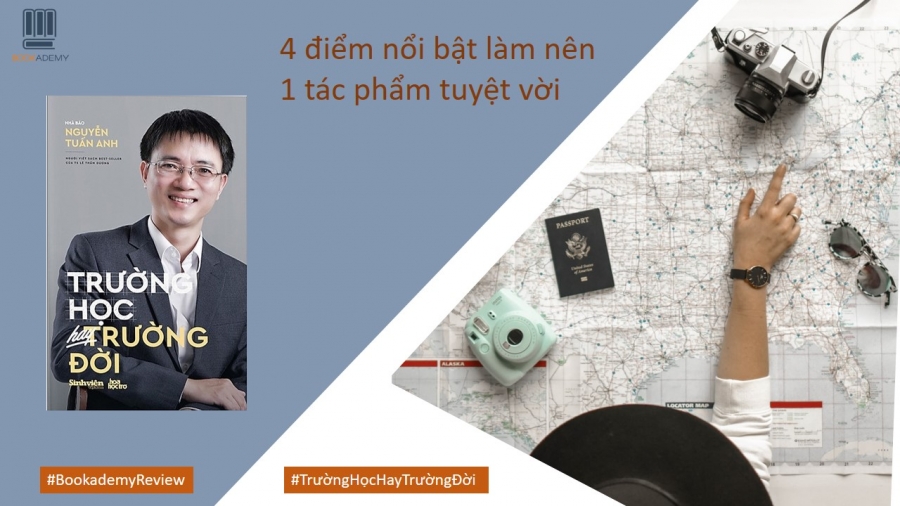 Buy at thuviensach.org Buy at Fahasa Buy at Shopee
Preface
As a journalist, I have been working in the field of journalism for nearly 20 years Vietnamese Students – Hoa Hoc Tro and having the opportunity to meet and work with many famous people both at home and abroad, journalist Nguyen Tuan Anh is often asked by students and parents about career guidance. And through those conversations, the author gave birth to the book School or school of life, is also to answer students and parents about choosing a career, choosing a job and also to help students confidently step into the future. But, the book doesn't just stop at school, but also "crosses the threshold" to the school of life; Then the author concludes with a sentence: SCHOOL or SCHOOL OF LIFE, every school must study and study seriously.
1. Author's point of view
Every exam season, parents and students are worried, not knowing whether to pass or fail. Then a feeling of joy overflows when you know that you have passed, but not everyone is so lucky and capable. There are some cases, when you study very well, but when you take the exam, unfortunately, you fail. And a psychological instability also appeared. Then the family is afraid that their children will fail the university and become unemployed, so they rush to send their children to study abroad. And the question here is: If you fail university, will you study abroad? About this, journalist Nguyen Tuan Anh said: Investing in your children's education is a top priority. But the investment channel and the time to invest, parents also need to calculate carefully. If you have the conditions and your child has the ability (including careful psychological preparation and independent living skills), it is good to study abroad. But not all children can study abroad. And in fact, there are also cases where, going back to study abroad, but still having to ask your parents to apply for a job, there is really something wrong.
Should I advise female students not to have sex? At the age of 18, students must also know and take responsibility for their own actions. But actually, when you are not ready and not prepared mentally and physically, you should not let that happen. And when it happens, both of them must be held accountable for their actions. Don't make each other miserable for the rest of your life with a loveless wedding. I think the author's words are very true, even if we wanted to, we can't prevent that from happening to young students forever. But the important thing here is, when you do, you have to take responsibility for your own actions.
Come to think of it, it's true, There's nothing like a real battle! Journalist Nguyen Tuan Anh, when he was still in his career, had to manually write hundreds and thousands of articles and edit them again and again to become a famous journalist like today. Or even if you learn English too, if you don't dare to speak English, you can't get better. But many of you keep saying, study forever, but English is still flat. Books are one thing, but practice is more important. That said, just jump in and do it, there's nothing like a real battle. There are interesting landmark things that if you don't put in the work, will never come to you.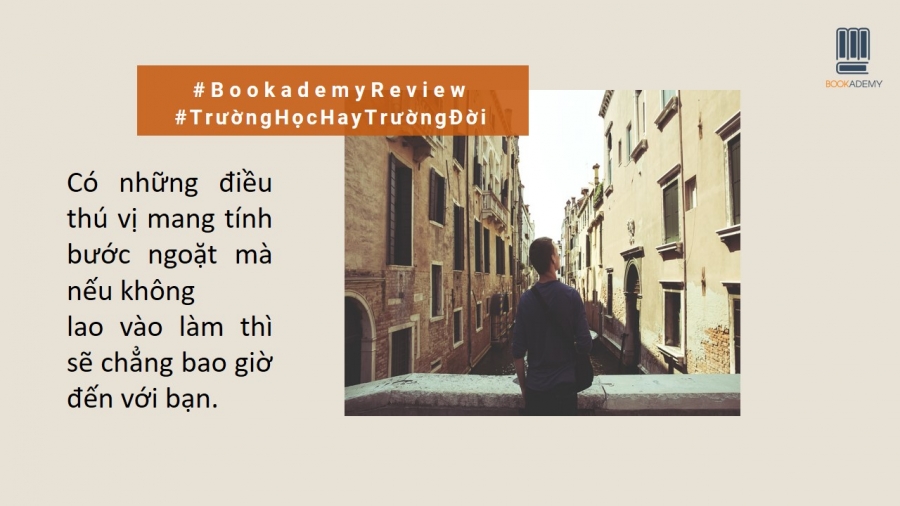 Buy at thuviensach.org Buy at Fahasa Buy at Shopee
Do construction, construction must know how to drink? Many people think that if you are a man or a boy, you must know how to drink alcohol to eat at the table and receive guests to sign a contract worth billions of dong. Then there's the notion that it's hard to get high if you don't know how to drink! So the students race together again… practice drinking. But a funny place, as a serious partner, they will care about the quality of the work first. This is not only the author's point of view, but also that of Dr. Le Tham Duong when asked by a student of construction and engineering: If you can't drink alcohol, can you work in construction or construction? are not?
2. Proud of Vietnamese people
With a love of football, the author told a story of his own, that in the past, even though he knew his son would sometimes sneak home to watch football (because at that time, almost the whole neighborhood had a TV). , so even though the author's mother has trouble sleeping, just hearing loud noises in the middle of the night can't sleep until morning, but she still pretends to be able to sleep. At the end of the World Cup season, both mother and daughter lost weight because of sleeplessness and insomnia. And it wasn't until later that the author knew that her mother silently accepted it to raise the love of football in the author's heart. That's it, Vietnamese people are so lovely!
Then there is a journalist's story that, 9 years ago, the author and his son went to Hang Day stadium to watch football and also wanted them to get used to the crowded environment. Normally, father and son usually arrive 45 minutes early to get a nice place. But almost every time the father and son arrived later than another father and son. The father is completely normal, and the son has Down syndrome. During the matches, in the past 9 years, the father has only acted the same way every time, when he scored a goal, he patted his son on the shoulder, pointing at the scoreboard. The rest, the father and son did not have any significant communication. When the whole audience jumped when there was a goal, the father still sat quietly with his son. Then last week, the author and his son went to Hang Day yard again, still seeing the other two sitting in a familiar position. Read the story to see that, in addition to the great love of football, Vietnamese people also have great love of father and son in particular, and love between people in general.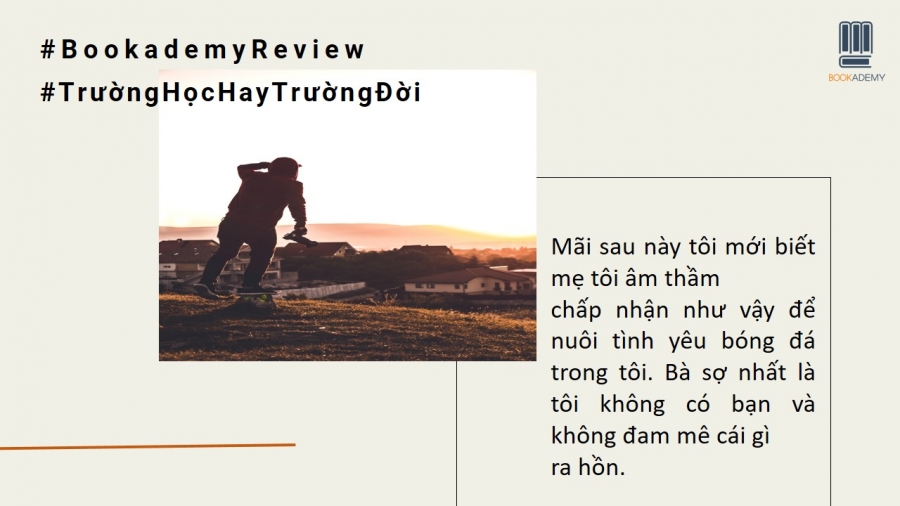 Buy at thuviensach.org Buy at Fahasa Buy at Shopee
3. "Legacy" of the countryside
The author's mother started out as a teacher of Literature, then worked as a vice-leader and group leader; then the vice-principal, the principal of a school. By the time she retired, there were still many colleagues, parents, and students who came to visit on holidays and Tet. She can be considered a symbol of successful female leadership in the 1980s. She always tells the author: if you want to succeed, be patient, suffer a little. This is the author's mother's point of view that she has thoroughly applied in her life and work. Then when the author grew up, stood in a relatively high-level position, she still reminded him when he returned to visit her: if you want to succeed, be patient, suffer a little… And now, when the author is over 40, he stumbles. It took a lot to realize that the author's mother was actually successful because she was able to control her emotions. The author told us about this story in the book, also to want us to absorb and inherit that beautiful view of life.
When the author was still at school, his house was a few dozen kilometers from the school, so he often had to go to his cousin's sister's house for lunch. She is very kind and loves the author. But because of eating many days at her house, the author also felt embarrassed. And as if reading that thought, she told the author: "You just focus on studying well, later on when you succeed, when you get on TV, I see you as being paid". From the first time I saw the author on TV until now, I am very happy, remembering every detail, the time of the broadcast and recounting every time I see the author. Sometimes, happiness for the countryside is so simple.
Then it's about First Love Bolero. In the early 1990s, when the whole neighborhood had only one battery-powered Chinese cassette player, bolero songs were considered "classic" songs associated with childhood for many generations. Because, every 6 am, the whole neighborhood can enjoy this music. And now when the author returns to his hometown, there is early morning bolero music, still being awakened by the memories of a time. Are those the unforgettable imprints of people living in 1990, not just the author's?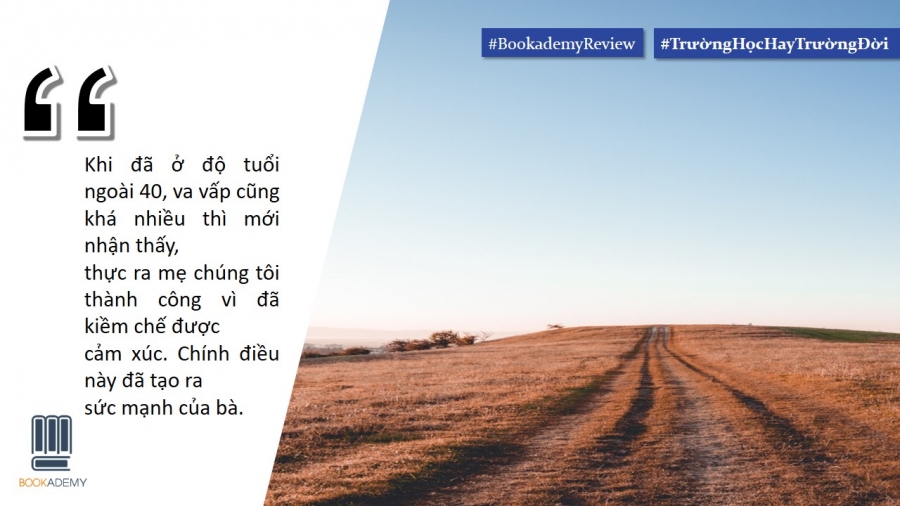 Buy at thuviensach.org Buy at Fahasa Buy at Shopee
4. Write with love, sincerity
This is my favorite part of the book because With love one can do the unthinkable. When there was a security guard with great love for Dr. Le Tham Duong, he was ready to read the entire 300-page book in two days, but the more he read it, the more drunk he became, the more absorbed he became. And the security guard himself said he couldn't imagine that one day he would finish reading such a long book. True that With love one can do the unthinkable.
What is a beautiful life? In some countries, when meeting someone in an accident, passersby also stop to help, but when the police or ambulance arrives, they will stand apart for doctors and police to approach the victim. In my case, on the contrary, when I meet the victim, passersby will gather, it is also difficult for the police and doctors to disperse that crowd to approach the victim. Oh, but don't blame the Vietnamese too quickly! Vietnamese people are kind, but we are used to behaving in such a way that, when encountering things like this, every "comrade of the people" is a "police man". To be honest, it is true that there are some cases handled by "comrades of the people" who are also smooth and honest. But if there is knowledge (law, health…) to handle anymore, it will be better, beautiful actions are even more beautiful.
Whether Vietnamese or foreign, there is enough inside: One Tang Tang, one Ton Ngo Khong, one Sa Tang, one Tru Bat Gioi. Through study and experience, we know which brother excels and which one fades; know how to push this guy up, put him down for science, harmony, suitable for current life.
I believe that living a beautiful life has only three factors: Living as a human, living as a citizen (that is, living in compliance with the law, not running through red lights on the street, doing something wrong, you must be "sorry"…) and working hard. Behind success is always a shadow of work.
The power of "thank you", "sorry". Actually, at first, I wondered if I should put this part in section 4 or not. But thinking about it again and again, I see that a sincere thank you and apology will also make the big thing turn into a small one. And because its power is "terrible", so I will spend the end of the article to make it "dramatic".
Apologies and thanks, according to the author, is the highest expression of humanity, because it is the highest expression of consciousness. Those who know how to use the two words "thank you" and "sorry" work extremely smoothly. Because these are the two words that easily win the hearts of the opposite person, and easily satisfy the opposite person emotionally. However, thanking incorrectly, apologizing improperly doesn't work either, backfire immediately. Thank you, sorry right, first must be sincere. Another note is that, in order for thanks and apologies to be accepted and fully effective, those words need to be expressed to the right extent. And finally, it is necessary to know how to combine language and non-verbal (eye contact, smile).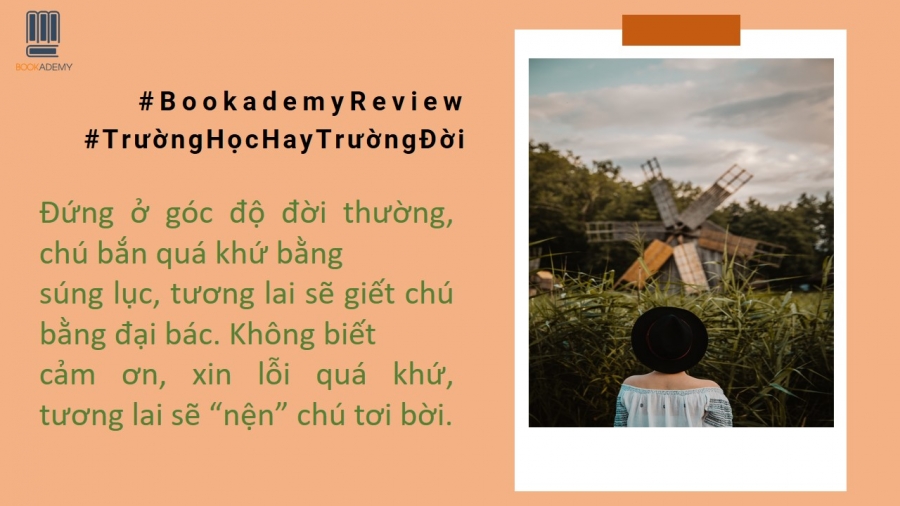 Buy at thuviensach.org Buy at Fahasa Buy at Shopee
Epilogue
18 years old? Or 22 years old? What is the age of the school? Of the school of life? Standing on the threshold of independence, we are always confused, wondering how to live a life, for the future and for the future. The advice I want to give you is Let – live – life – live – present – present. Live full, live happily, understand yourself, you will find you! And finally, to borrow the author's words, I want to convey to you: School or school of life, every school must study and study seriously.
Detailed review by: Minh Trang – Bookademy